ABW Ministries GRR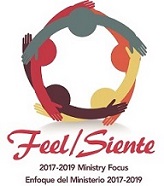 ABWM 2017–2019 Ministry Focus
The ABWM 2017–2019 Ministry Focus theme is "Feel/Siente". This will give us the opportunity to spend two years focusing upon the many ways we experience God through Jesus Christ—how we feel God at work in us and through us. The theme invites us to feel compassion for others—to be emotionally affected by what is happening to our sisters and brothers next door and around the world. Finally, the theme gives shape to our faith journey for the next two years, as we continue to feel our way towards God.
2018–2019 Mission Focus: Domestic Violence
Domestic violence crosses all socio-economic and racial barriers. Intimate partner violence, or domestic violence, is a crucial topic affecting women and families in our communities and in our congregations. Thirty percent of women globally experience intimate partner violence. Nearly 75 percent of Americans personally know someone who is or has been a victim of domestic violence. Yet, despite these statistics, few churches address the issue openly. What a powerful place of safety, healing, and recovery a women's ministry and a congregation could be for those experiencing or having experienced domestic violence.
Visit the National ABWM site for more information on taking action to fight domestic violence

.
Support ABW Ministries
Please consider supporting ABW Ministries by becoming a Vital Partner

.
ABWM & AB Girls GRR Conference 2019
Register Now

When: May 31–June 2
Where: Radisson Hotel & Conference Center, 8 Traders Circle, Normal, IL
Friday Night Guest Speaker: Jill Savage, founder of Hearts at Home
Friday Night Special Music: Cheryl Jennings