ABW Ministries GRR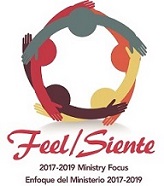 ABWM 2017–2019 Ministry Focus
The ABWM 2017–2019 Ministry Focus theme is "Feel/Siente". This will give us the opportunity to spend two years focusing upon the many ways we experience God through Jesus Christ—how we feel God at work in us and through us. The theme invites us to feel compassion for others—to be emotionally affected by what is happening to our sisters and brothers next door and around the world. Finally, the theme gives shape to our faith journey for the next two years, as we continue to feel our way towards God.
2018 ABWM GRR Annual Conference
Don't miss this special celebration as we look back over the last 50 years of ministry. Happy Anniversary ABWM-GRR!
When: June 8–10, 2018
Where: Northfield Inn, Suites & Conference Center
3280 Northfield Drive
Springfield, IL